Charged and found guilty of manslaughter in the first degree, James Alfred Platts was sentenced to 17 years of hard labor at Auburn Prison. [1]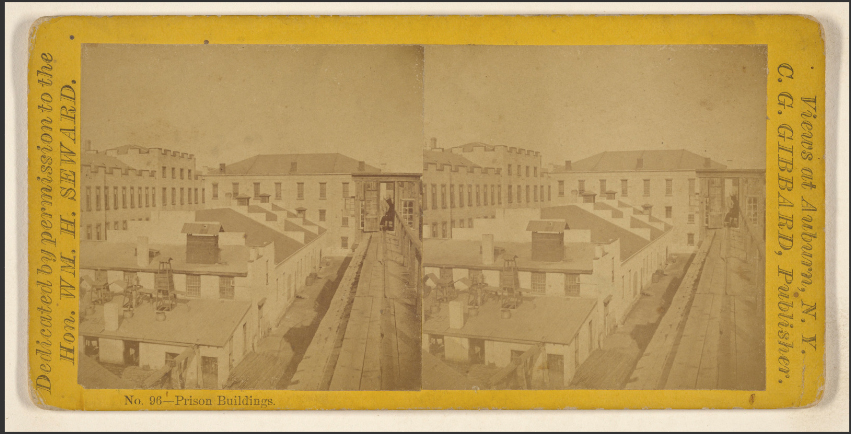 Constructed in 1816 [3] as Auburn Prison, it was the second state prison in New York (after New York City's Newgate, 1797–1828). Auburn prison was the site of the first execution by electric chair in 1890. It was the namesake prison that defined a specific approach for incarceration: the "Auburn system". The Auburn system was a correctional system in which prisoners were housed in solitary confinement in large rectangular buildings and performed penal labor under strict silence that was enforced at all times. Because communication is necessary to maintaining a sense of self, prison officials decided to break convicts of this self-identity by forbidding them to communicate in any way. Even the keepers, the men who supervised the convicts, did not speak to them. The keepers signaled directions by tapping their metal-tipped canes on the ground. [4]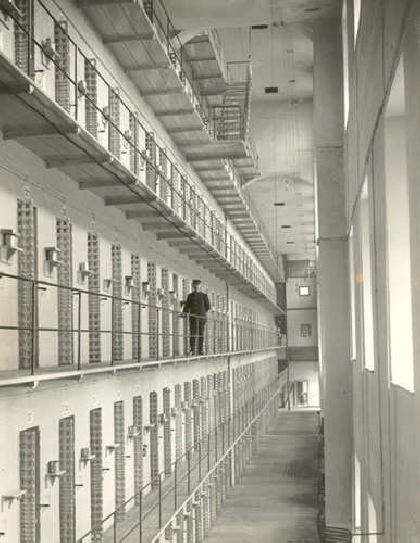 The old south hall at Auburn Prison [5] The cells had open fronts with bars and were arranged back-to-back in straight lines inside long halls. This meant that no cell had a view of the front of any other cell. At Auburn the walls projected a couple of feet in front of the doors, so making it quite impossible for prisoners to see into adjacent cells.
In contrast with the purely reformatory type prison instituted in Pennsylvania, the Philadelphia System introduced by the Quakers, the "Auburn system" substituted the schedule of prayer, contemplation, and humane conditions with hard labor.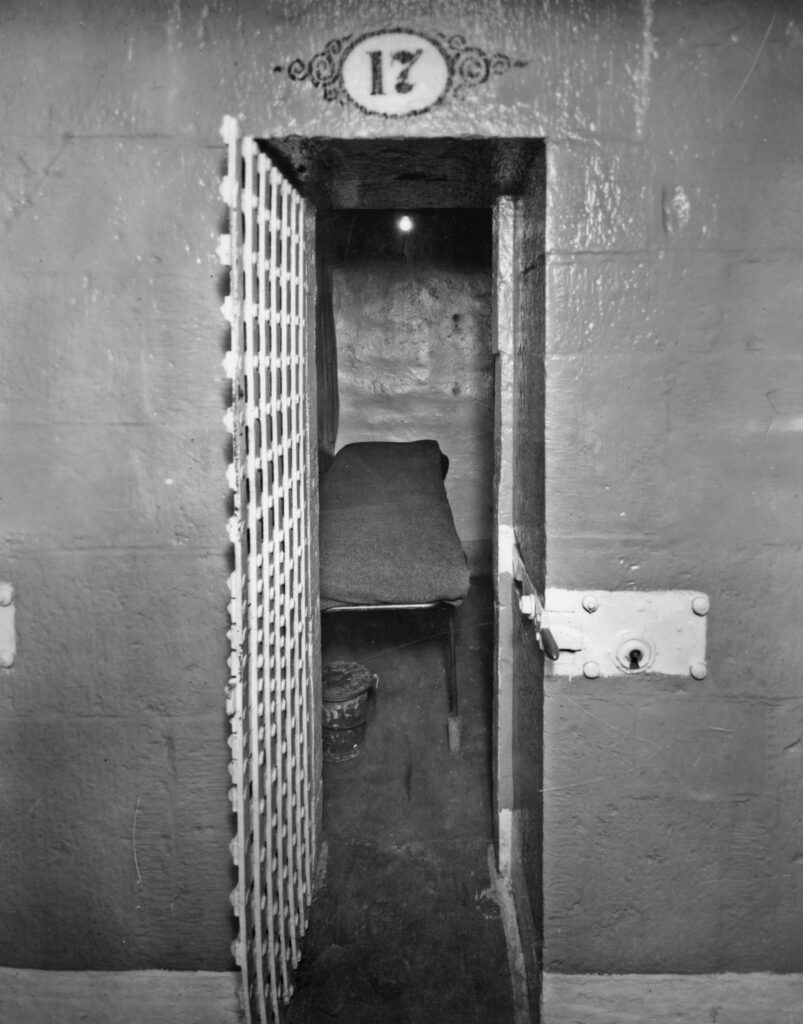 The north wing cells, completed in 1821, "were 7' long, 7' high, and 3 1/2' wide. Cells were lined up, back to back, stacked five tiers high inside a huge containing building. Auburn Prison became the first in the world to house prisoners in individual cells. This design, which became known as the Auburn plan or inside cell design, became the model for all American prisons." [6]
Prisoners were compelled to work during the day, and the profit of their labor helped to support the prison. Prisoners were segregated by offense; additionally they were issued clothing that identified their crime. The traditional American prison uniform, consisting of horizontal black and white stripes, originated at the Auburn prison. The prisoners had their heads closely cropped and walked in lockstep, keeping step with their heads bowed. Each prisoner placed a hand on the shoulder of the man in front of him to maintain a rigid separation.
There was a communal dining room so that the prisoners could gather together for meals, but a code of silence was enforced harshly at all times by the guards. Thus the inmates worked and ate together, but in complete silence. At night the prisoners were kept in individual cells (even though the original plan called for double cells).
During James Platts' 10 years of incarceration at Auburn Prison, 14 prisoners were executed by electrocution. One of the prisoners sentenced to death was Leon Czolgosz, the assassin of President William McKinley [7]
James Platts' incarceration was documented in the 1900 Federal Census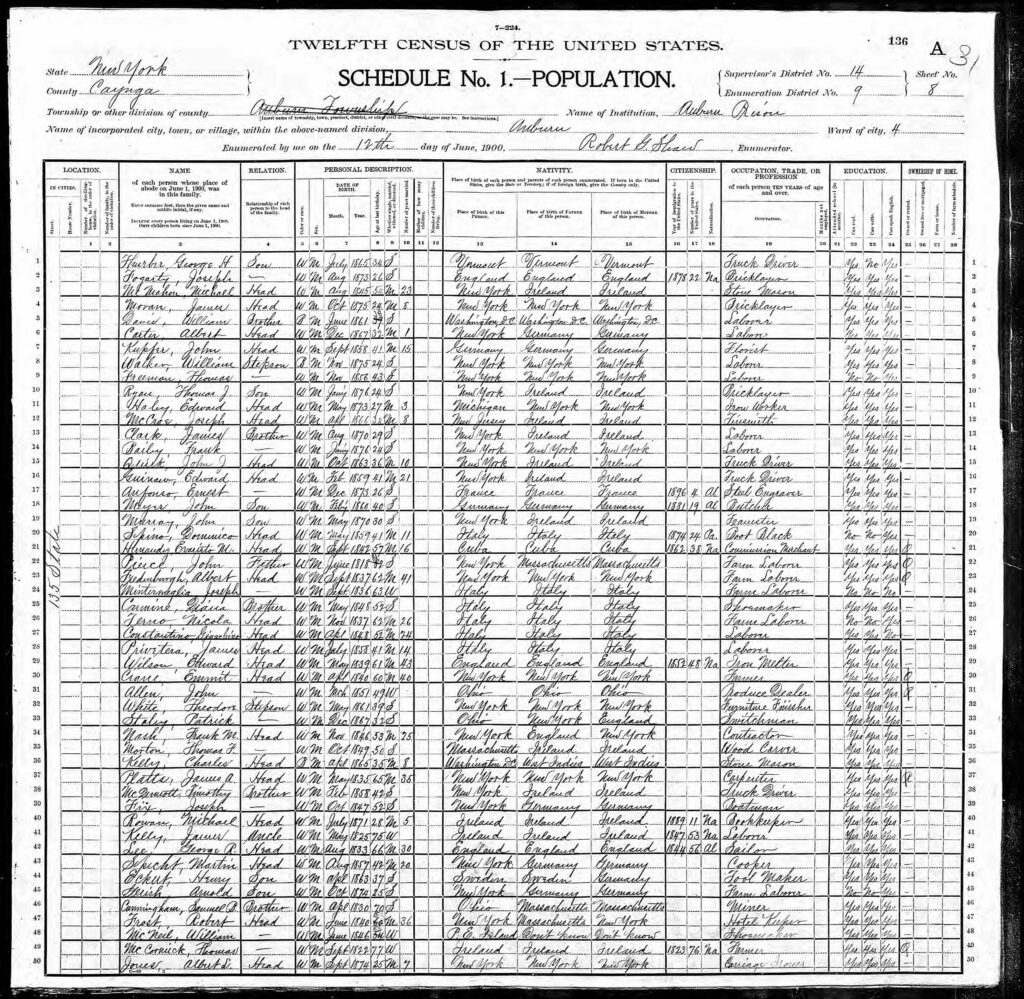 As reflected in information related to his discharge from Auburn Prison, James Platts was sentenced to 17 years on December 21, 1893 and received at the prison on December 23, 1993. He earned a commutation of 6 years 4 months and 22 days. His date of discharge was July 30, 1904. His commutation was shortened by 3 days for "quarreling in line" and 5 days for "turning head and looking at people in the mess room".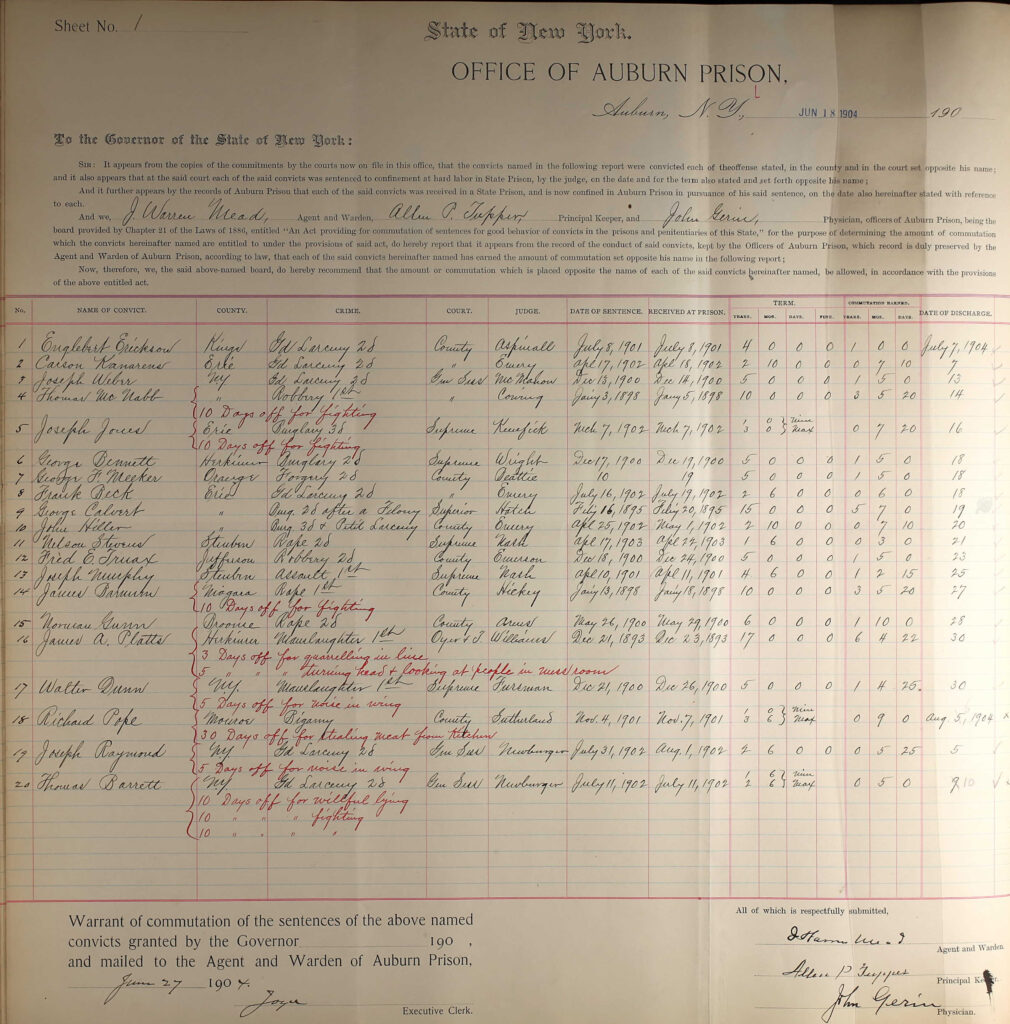 The prison was renamed the Auburn Correctional Facility in 1970. [8] The prison is among the oldest functional prisons in the United States.
Sources
Featured photograph: Auburn Prison Bread Line, Cayuga Museum of History and Art, Cayuga Museum and Case Research Lab, 203 Genesee Street Auburn, NY 13021
[1] "Murderer gets 17 years", Watertown Times., December 22, 1893, Page 1
[2] Christopher G. Gibbard (American, 1832 – 1890), photographer, Prison Buildings. [Auburn, New York], Stereographic photograph, J. Paul Getty Museum,
[3] McHugh, Eileen, Auburn Correctional Facility. Arcadia Publishing, 2010
McHugh, Eileen, Cayuga Museum of History and Art director, Both Sides of the Wall, Auburn Prison Exit Brochure, Cayuga Museum of History and Art 4/12-8/31 2003 exhibit brochure
Prison Visiting Project, Correctional Association of New York, Auburn Corrections Facility, June, 2011, Page 1
[4] The Auburn System, Cayuga Museum of History and Art, Online page access December 3, 2020. Cayuga Museum and Case Research Lab, 203 Genesee Street Auburn, NY 13021
Gershom Powers, A brief account of the construction, management, and discipline &c. &c. of the New-York State Prison at Auburn, Auburn: U.F. Doubleday, 1826https://digital.library.cornell.edu/catalog/ss:21820096
Auburn System, Wikipedia, https://en.wikipedia.org/wiki/Auburn_system
Jeffrey A. Mullins, "Shifting Our Focus on New York's Rural History: Politics, Prisons, and Social Reform." New York History 97, no. 3–4 (2016): 427–49. https://www.jstor.org/stable/90018681.
[5] Photograph found in Steadman, Philip, The Contradictions of Jeremy Bentham's Panopticon Penitentiary, Journal of Bentham Studies9(1), January, 2007, Page 22-23
[6] Prison Beginnings, Cayuga Museum of History and Art, Online page access December 3, 2020. Cayuga Museum and Case Research Lab, 203 Genesee Street Auburn, NY 13021
[7] The Trial and Execution of Leon Czolgosz, Internet Archive, Originally found in Buffalohistoryworks.com. Archived from the original on 2016-11-14.
[8] Auburn Correctional Facility, Wikipedia, this page was last edited on 17 January 2021, Page accessed January 27, 2021.