As documented in the local Gloversville newspaper, the Daily Leader, the following were the by-laws of the City of Gloversville in 1890 when Fred Sperber and Louis Sperber were policeman. Aside from the typical legal statutes associated with disorderly conduct, drunkenness, stolen property, theft, vandalism, violent crime, and other offenses, the following by-laws were subject to arrest and fines.
In a nutshell, there were 27 by-laws governing the citizenry of Gloversville in 1890.
Section 1: The by-laws can not be changed without the unanimous consent of the common council.
Section 2: Any male resident 10 years or above that attends a fire many be required to help.
Section 3: The discharge of firearms is prohibited except for general exemptions and exemptions for July 4th celebrations issued by the mayor or common council.
Section 4: Owners and occupants of buildings shall keep sidewalks and gutters free of snow.
Section 5: Dog and cock fights are prohibited.
Section 6: Anyone who keeps a disorderly or gaming house or establishment, shuffleboard or faro bank or any other instrument for gaming" where gambling and liquor is involved is subject to fines.
Section 7: Anyone publicly bathing in a pond or stream in a public place between sunrise and sunset is subject to a fine.
Section 8: Owners or occupants of any tenement will ensure the outlying areas a re clean and devoid of rubbish, dead animals or other offensive materials.
Section 9: Horses are not to be fastened to trees or shrubs, lamp posts or lanterns.
Section 10: No speeding or racing horses in town.
Section 11: Horses will not be fastened in any such way as to impede sidewalks or crosswalks.
Section 12: Pigs are not allowed not be penned in town.
Section 13: Making loud noise, disturbances, else alarms for fires, blocking religious buildings, and engaging in any public diversion will be subject to a fine.
Section 14: Side shows or performances are not allowed unless you have a license.
Section 15: No vendors are allowed unless you have license.
Section 16: Hawking or peddling is prohibited.
Section 17: Buildings or structures that are being built will not occupy or obstruct more than one third of the width of any street or alley.
Section 18: Sidewalks will be unencumbered from having any sort of material longer than necessary.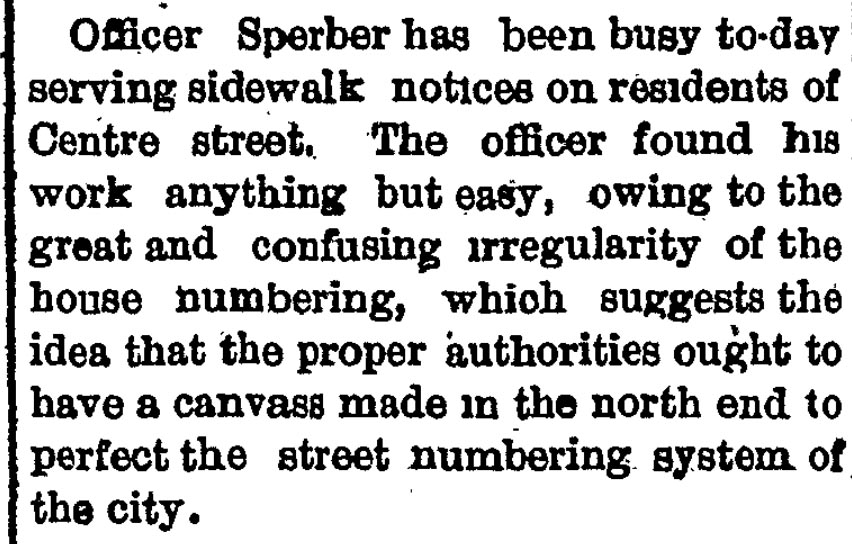 Section 19: No person will be allowed to open any public sewer.
Section 20: Trespassing on of defacing any enclosures, trees or shrubbery of any burial grounds will be subject to a fine.
Section 21: Anyone who plays ball, pitches pennies or quoits, or are engaged in playing cards, dice or dominoes or any game of chance or money or otherwise on Sunday will be subject to a fine.
Section 22: If any cattle, horses, sheep, goats, geese or swine are found running at large in the city, the owners will be fined.

Section 23: Selling veal within the city for the purpose of food that has been killed under twenty eight days old will be subject to a fine.
Section 24: Any person breaking any street or church lamp shall be subject to fines and related repair costs.
Section 25: No fence shall extend into any street or alley.
Section 26: Defacing or disfiguring any fence is subject to a fine.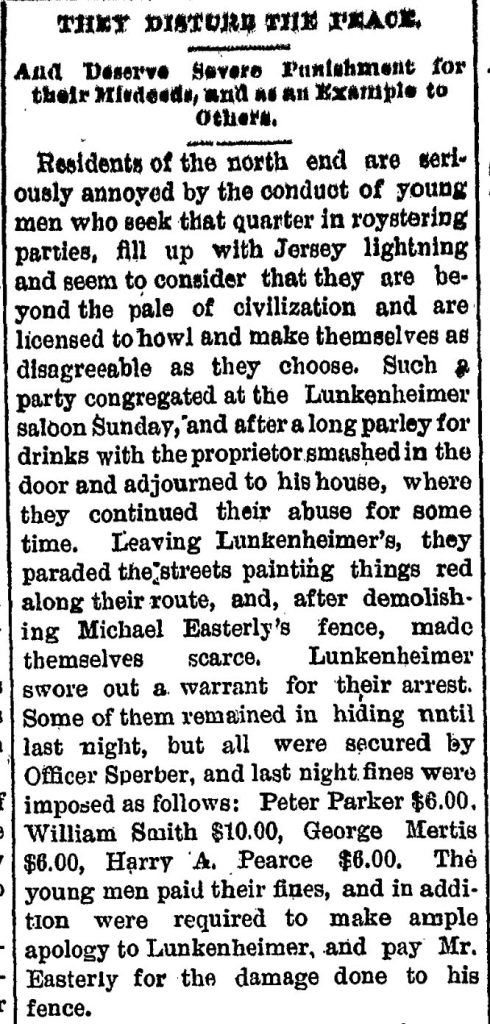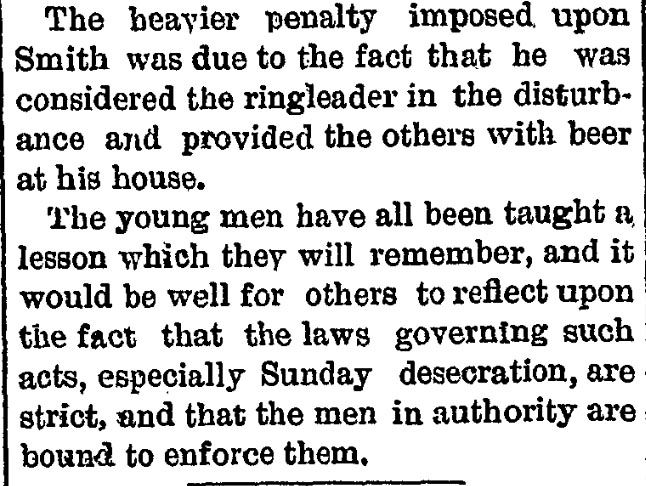 Section 27: These by laws are passed by the trustees of the village of Gloversville and governed by the provisions of subdivision 60 of section ( of chapter 55 of the laws of 1890.
Sources
Featured Image: A portion of the Illustration: A Bird's Eye View of Gloversville 1875, H.H. Bailey & Co., Lewis, George W., lithographer, Albany [1875], U.S. Library of Congress, http://hdl.loc.gov/loc.gmd/g3804g.pm005680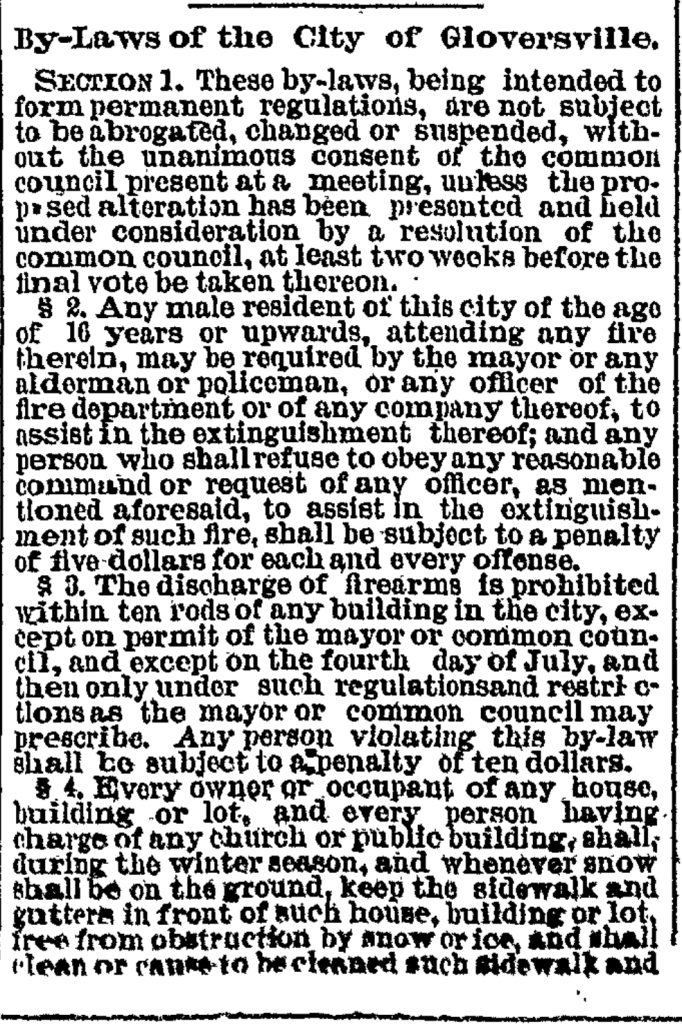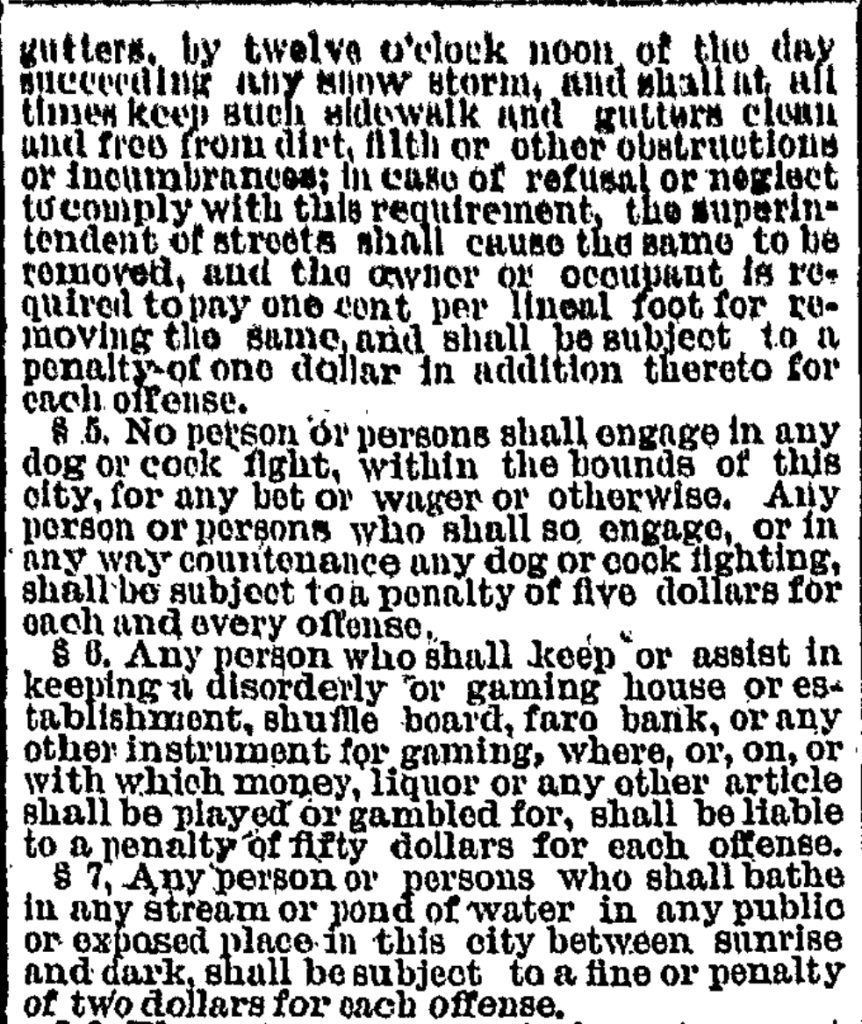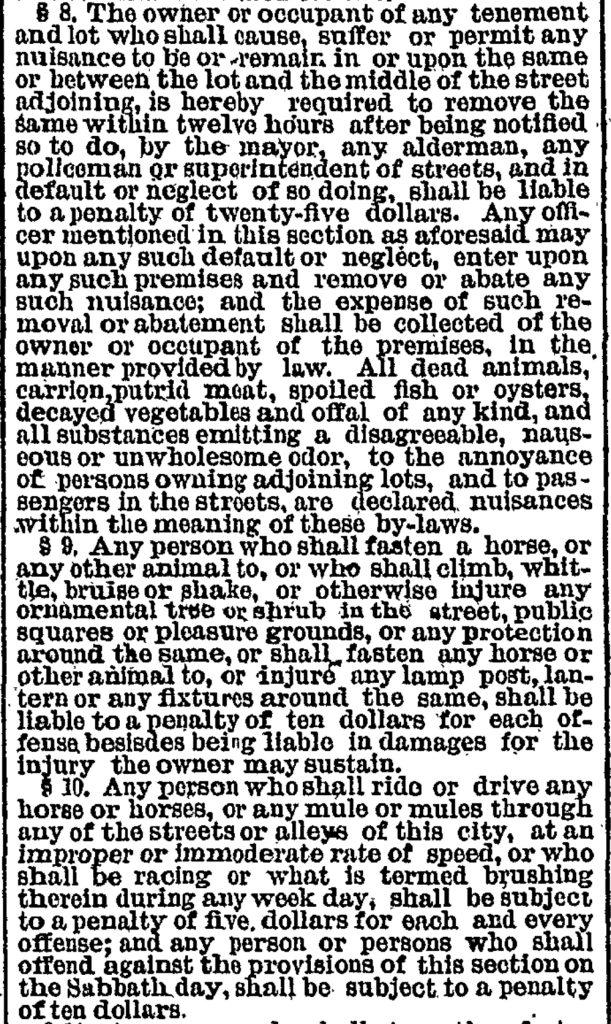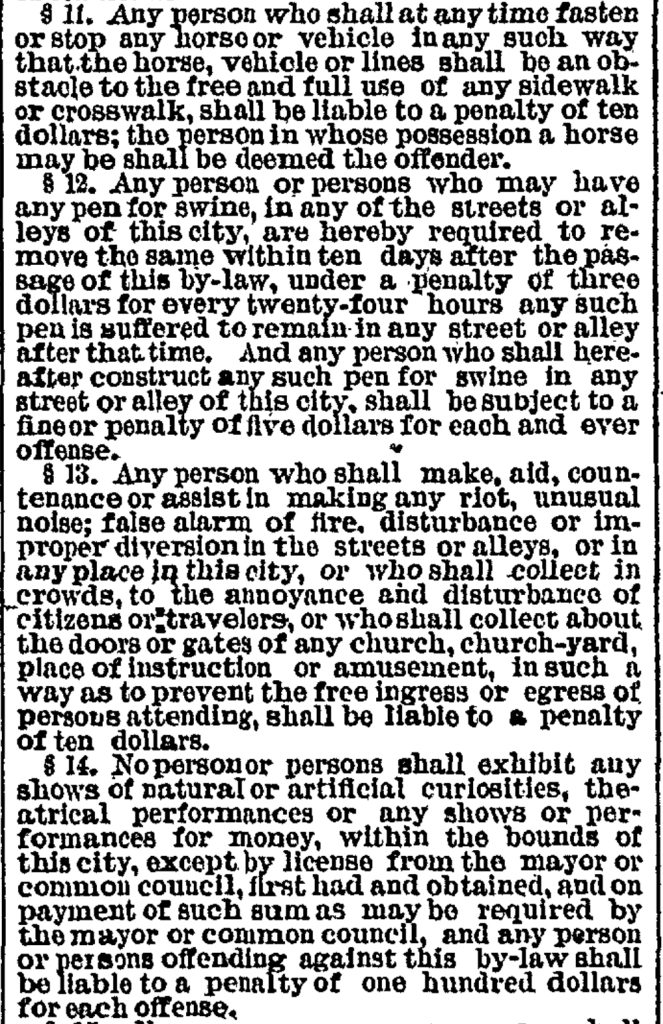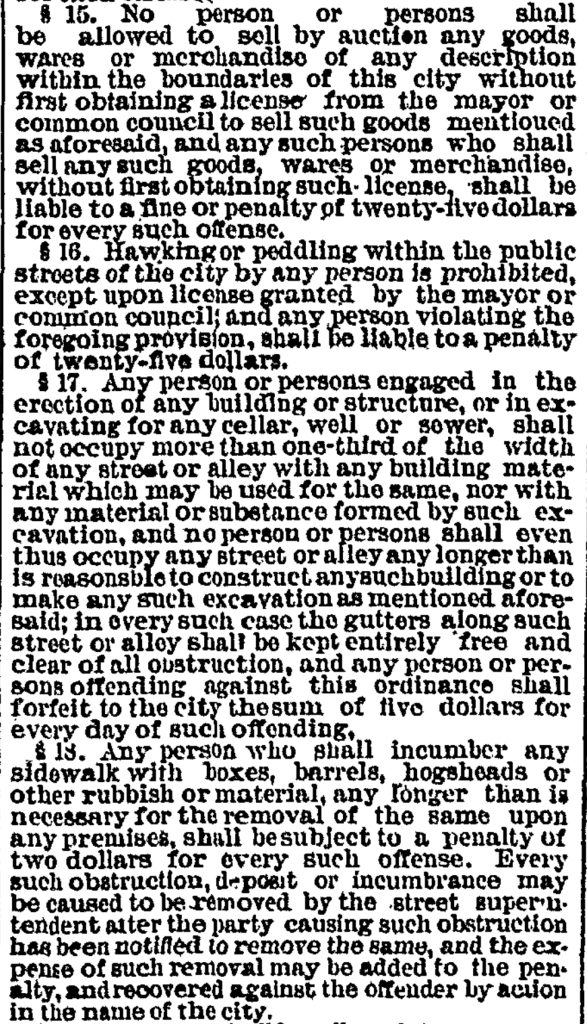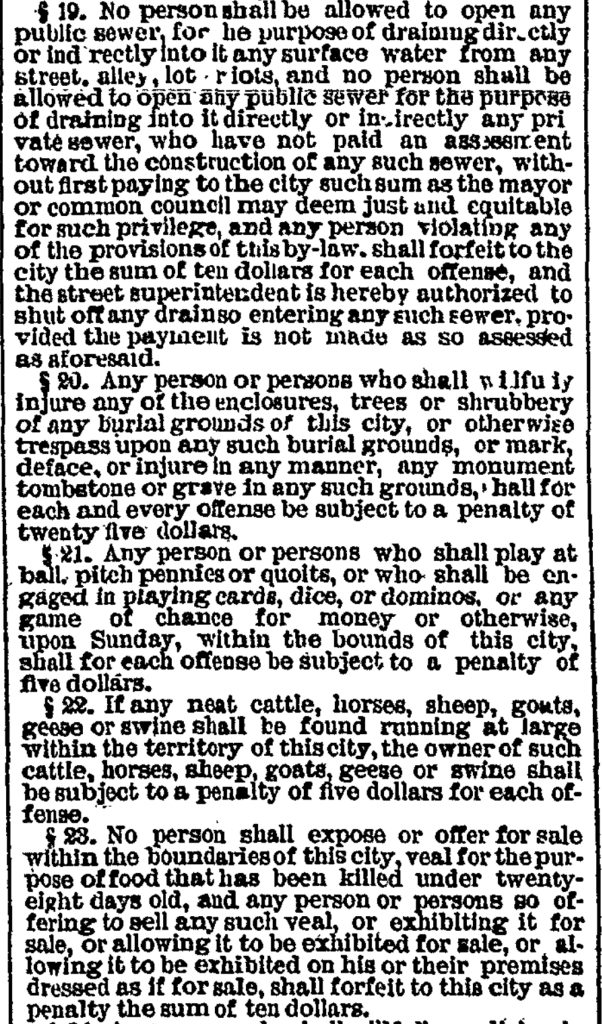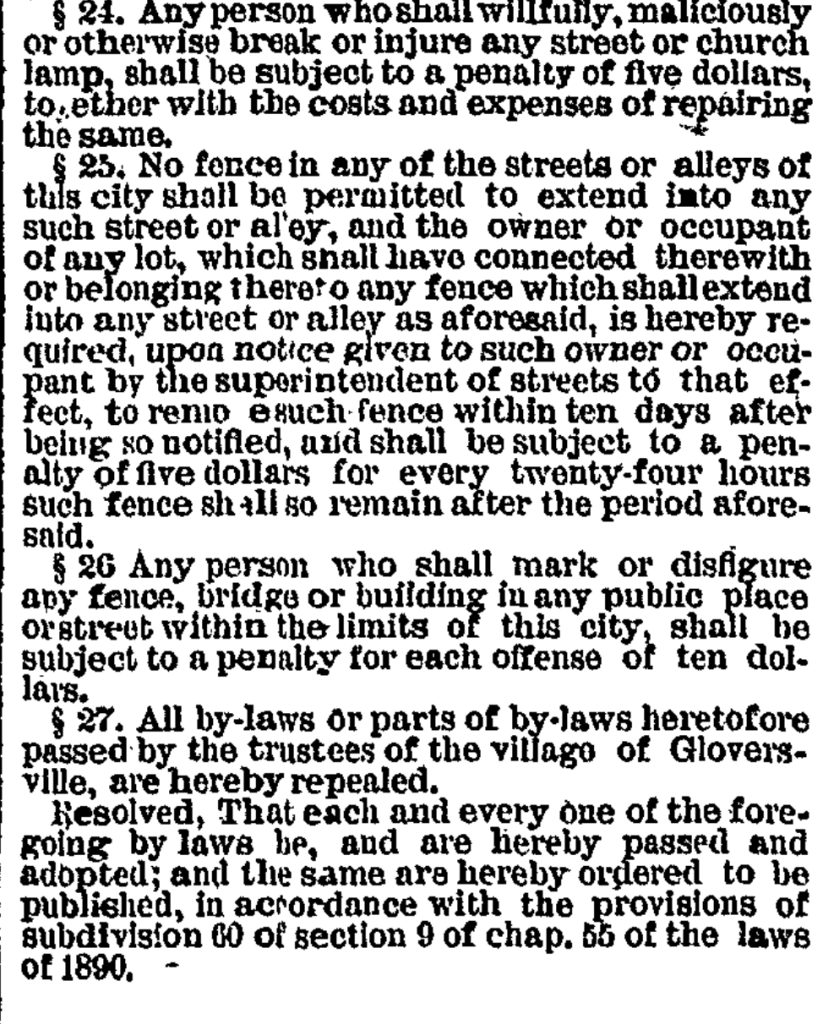 Source: The daily leader., July 22, 1890, Page 4 | Persistent Link http://nyshistoricnewspapers.org/lccn/sn88074616/1890-07-22/ed-1/seq-4/