Based on their family ties with Harold Griffis, William J. Griffis (1843-1908) is Harold's grandfather. William J. Griffis was married to Ruth Amanda Carpenter (1845-1914). They had two sons, Charles Arthur Griffis (1877-1926) and Albert Ivory Griffis (1879-1932). They also had two daughters, Emma Griffis (1869-1925) and Fannie Lee Griffis (1873).
Charles Griffis was married to Ida May Sperber (1876-1954) and they had one son, Harold Griffis. (see family tree image A below)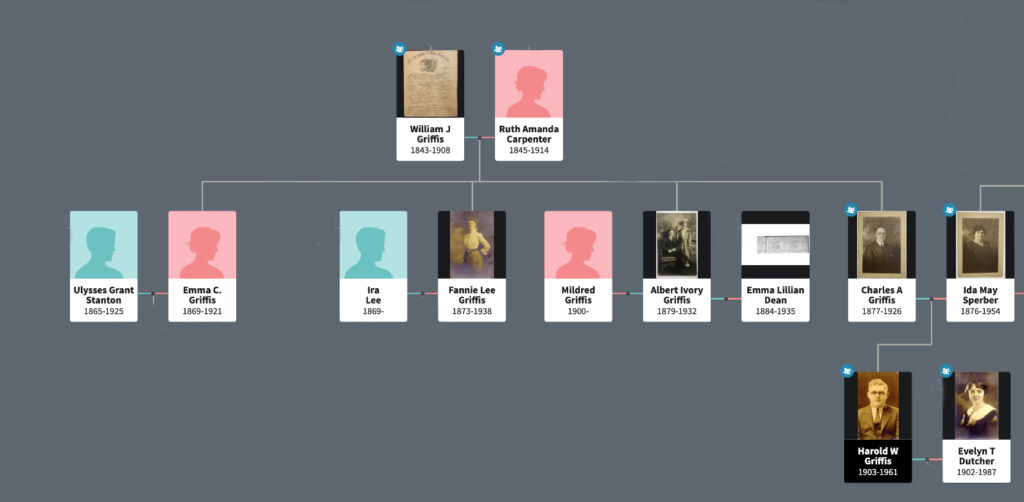 Joel Griffis (1807-1882) was the great grandfather of Harold Griffis. Joel was married twice. He and his first wife, Margery Gillespie, had Seven children: Daniel Griffis (1832-1864), Stephen Griffis (1834-1874), Joseph H Griffis (1836-1902), Margaret M. Griffis (1838- ), William J. Griffis, Ruth Addie Griffis (1845-1931) and Francis Griffis (1850-1855).

Margery Gillespie passed away in 1850 and Joel remarried. His second wife was Anne Marie Ostrom (1826-1908). Joel and Anne had four children: Mary Griffis (1856 – ), Oliver L. Griffis (1862 – ), Joel C. Griffis (1862 – ), and America W. Griffis (1865 – ).
Photographs of Charles Arthur Griffis: First photograph – Albert standing and Charles sitting, second photograph Charles with young Harold, third photograph of an older Charles Griffis.
Charles, Albert, and Harold Griffis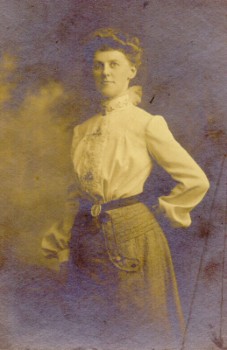 Photograph of Fannie Lee Griffis, sister of Charles and Albert Griffis
Photographs of Ida May Sperber, the wife of Charles Griffis:
To go back to the story you were reading, click on your back button.