There are a number of stories that reference the marriage of Harold William Griffis and Evelyn Teresa Dutcher. Given the number of photographs and documents related to their marriage it is befitting to provide a story solely to the subject.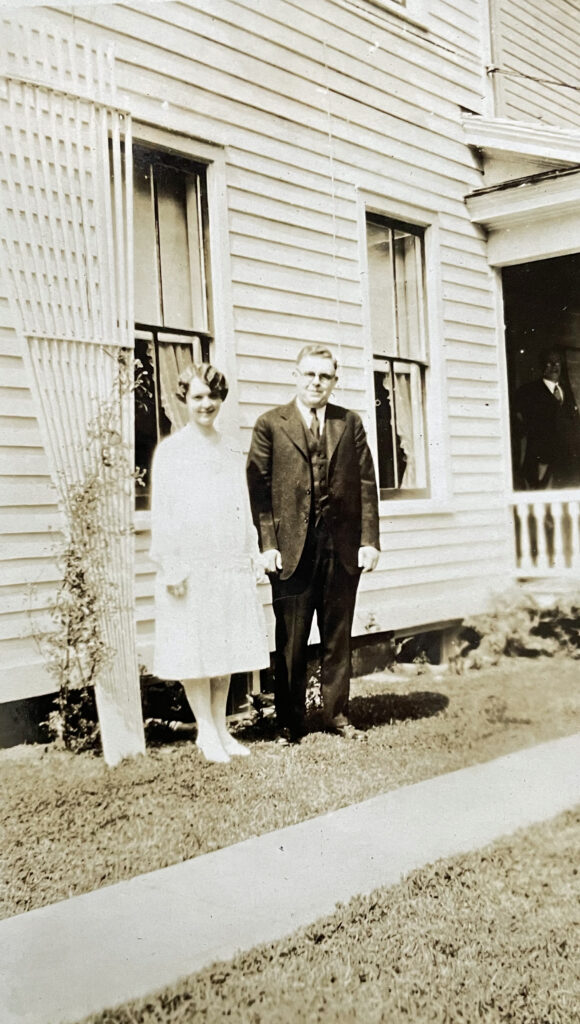 Leading Up to the Marriage
Harold Griffis and Evelyn Dutcher began dating during their last two years at Gloversville High School, Gloversville, New York. Both were honor students and participated in a number of clubs and activities in their high school careers. William graduated from Gloversville High School with a commercial diploma and initially worked in the Gloversville YMCA after high school graduation. Evelyn graduated with a classical arts degree and immediately went on to obtain a college degree at the New York State teacher's college in Albany, New York.
Having decided to become a minister while he was in high school, Harold realized the need to obtain a college degree. In his post high school graduate year he was tutored by his high school sweetheart, Evelyn, to take the required college entrance exams to enter college. With Evelyn's help, Harold passed the college entrance exams. Harold then applied and was accepted to Wesleyan University in Middletown, Connecticut.
Being one year ahead for Harold in her college studies, Evelyn Dutcher graduated from the New York State College for Teachers, Albany , New York in 1924. She went back to the Gloversville area and taught Latin at the Johnstown High School in Johnstown, New York while living with her parents [1].
After Harold's graduation in 1925, he began is career as a minister and pastor at two local Methodist Episcopal church: Jonesville and Groom's Methodist M.E. churches in New York state.
Wedding Day
They were married on Harold's birthday June 29, 1926. After their wedding, they immediately left for Harold's pastoral duties and initially lived in the Jonesville parsonage.
The following photo was taken on Harold and Evelyn's wedding day. Harold and Evelyn are peeking out of the window behind their parents and Harold's aunt Kate Sperber. The photograph was taken at Evelyn's parent's house, 27 North Judson Street, Gloversville, New York. In the photograph from left to right: Aunt Kate Sperber, Ida Sperber Griffis, Charles Griffis, Mary Jane Platts Dutcher, and Squire Dutcher.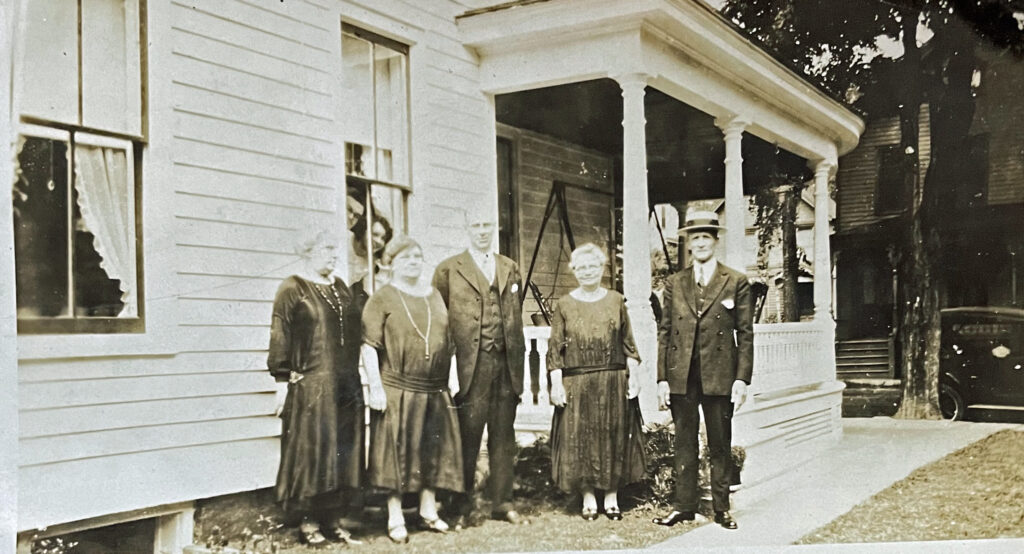 The photograph of the wedding party below is also taken at 27 Judson Street. From left to right: Bernice Dutcher, who was Evelyn's cousin; Evelyn Dutcher; Harold Griffis; and Russell Lane, Benice's future husband. On the porch, to the right, is Charles Griffis looking on as the photograph was taken.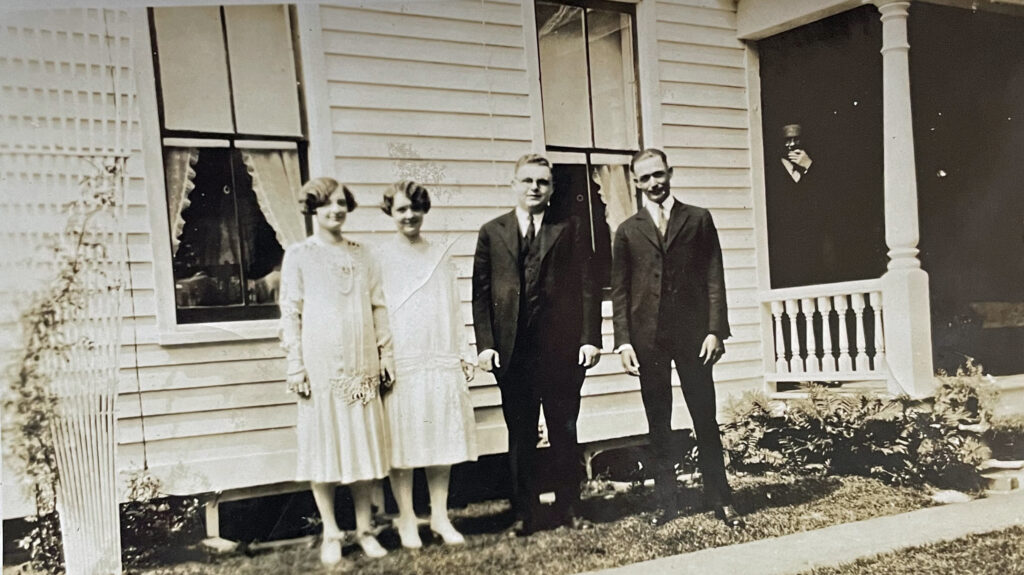 The following is Harold and Evelyn's marriage guest book. Harold W. Griffis and Evelyn T. Dutcher were married in the Fremont Street Methodist episcopal Church by the pastor David W. Reid. their witnesses were Bernice Dutcher, Evelyn's cousin and another cousin, Paul Snyder. The pages that include names of individuals who attended the wedding or gave gifts must have been amended many years after the actual date. The name 'Nancy Evelyn Griffis' is listed but Nancy is Harold and Evelyn's fourth child.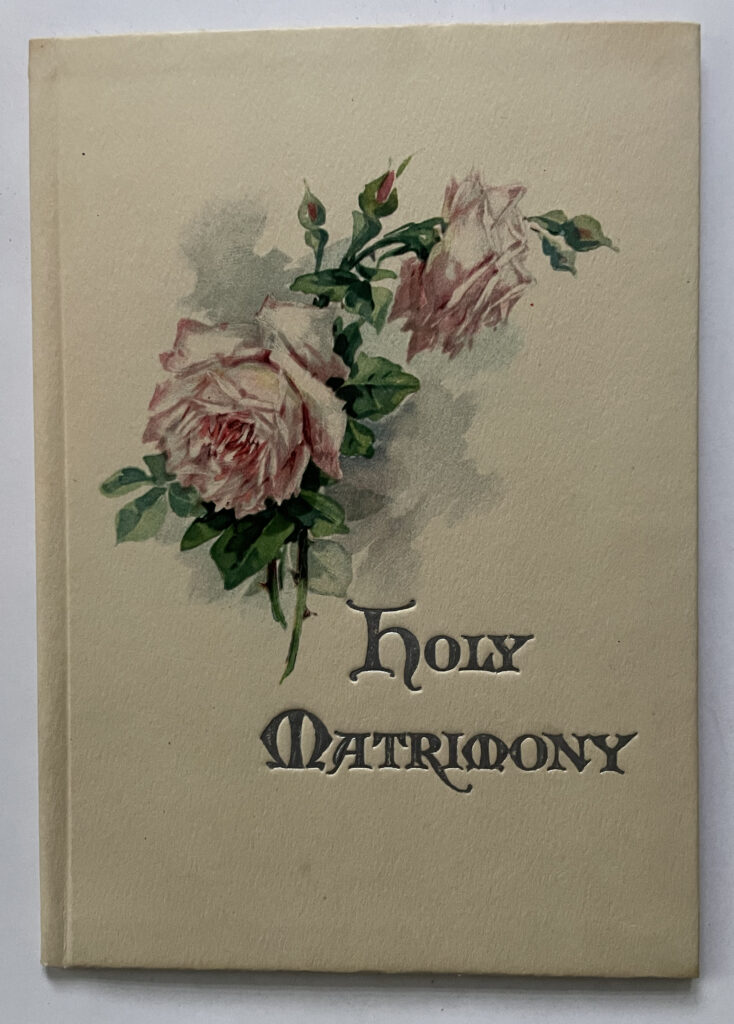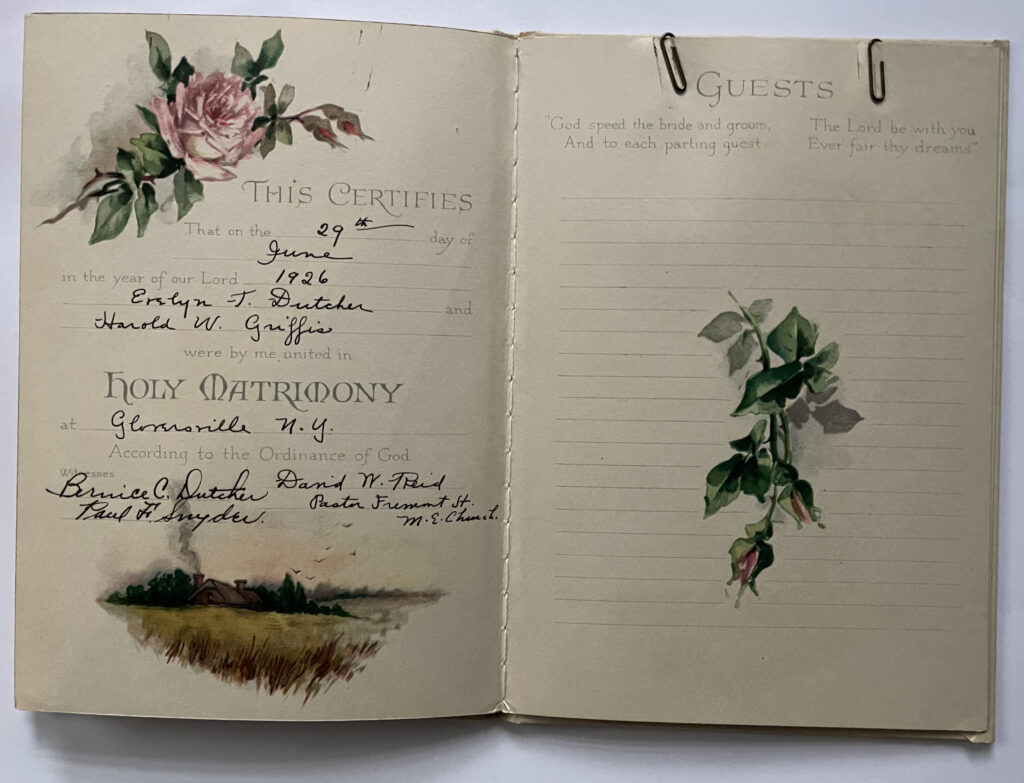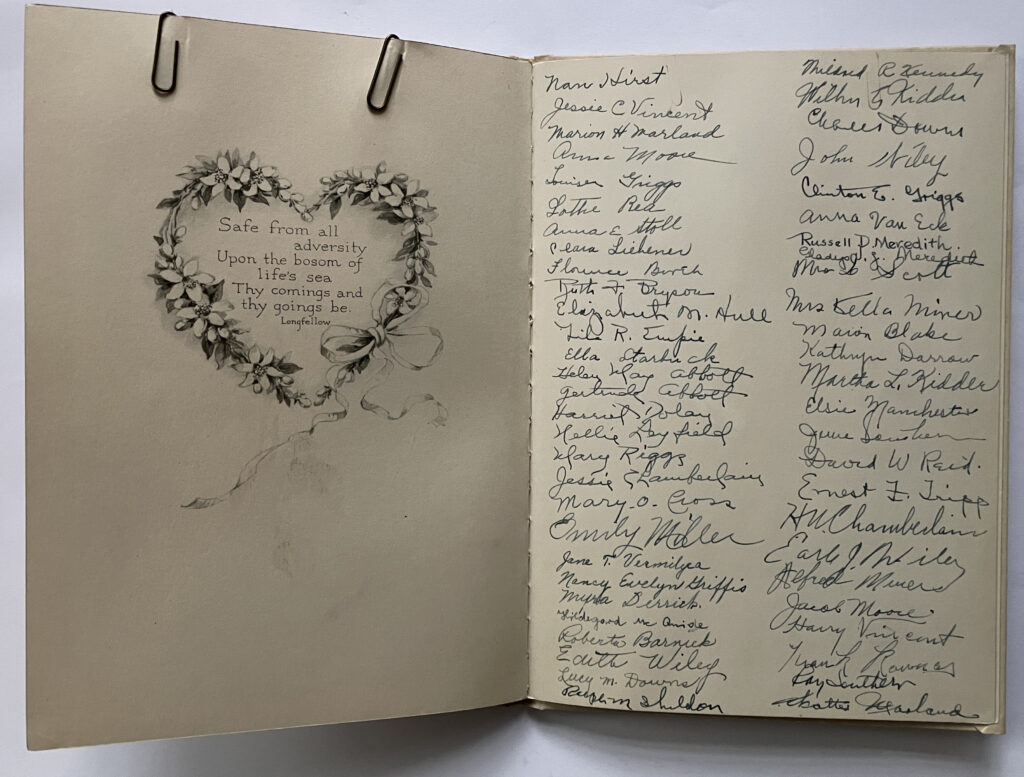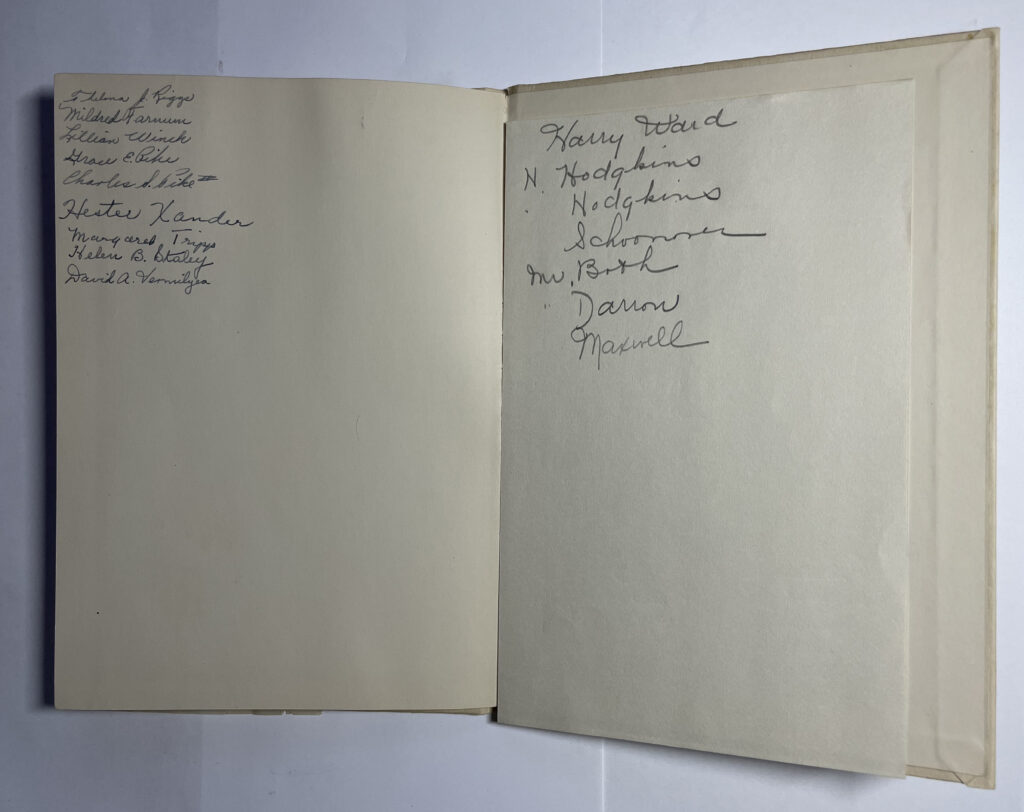 1926 was a year of many milestones for both young Harold and Evelyn. It began their 35 years together as husband and wife. Harold was starting his career as a pastor. Harold lost his father, Charles, in the latter part of the year. Evelyn ended a brief teaching career after graduating from college and devoted her attention to her role as a pastor's wife until Harold passed away a day after his birthday on June 30, 1961.
Twenty Five Years Later – 1951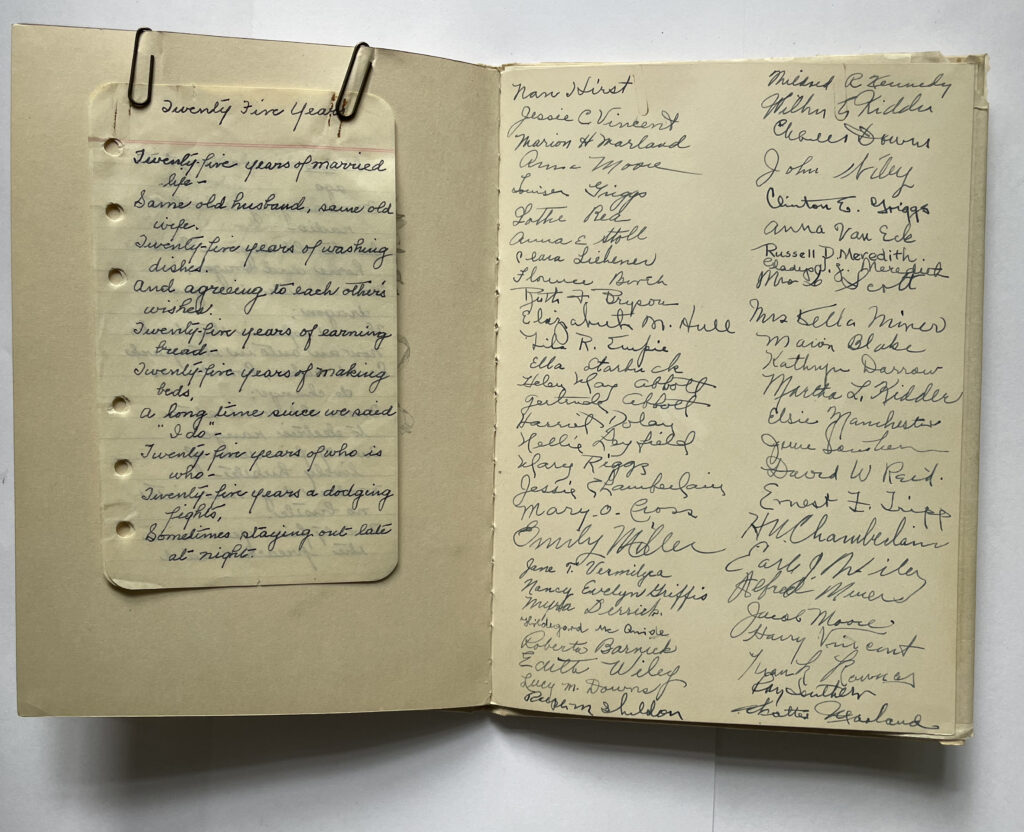 The following handwritten notebook pages were attached in the Guestbook. After viewing their handwriting, I believe the poem was written and transcribed by Evelyn. She probably placed it into the Guest book around their 25th wedding anniversary. Click for larger view.
The following are the three handwritten notebook pages that were attached in the Guestbook.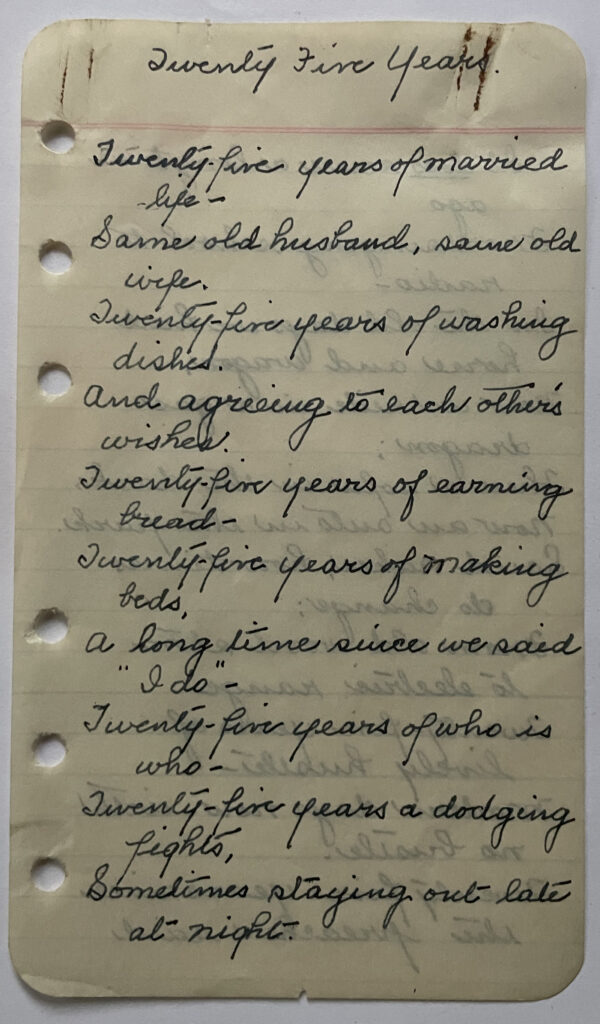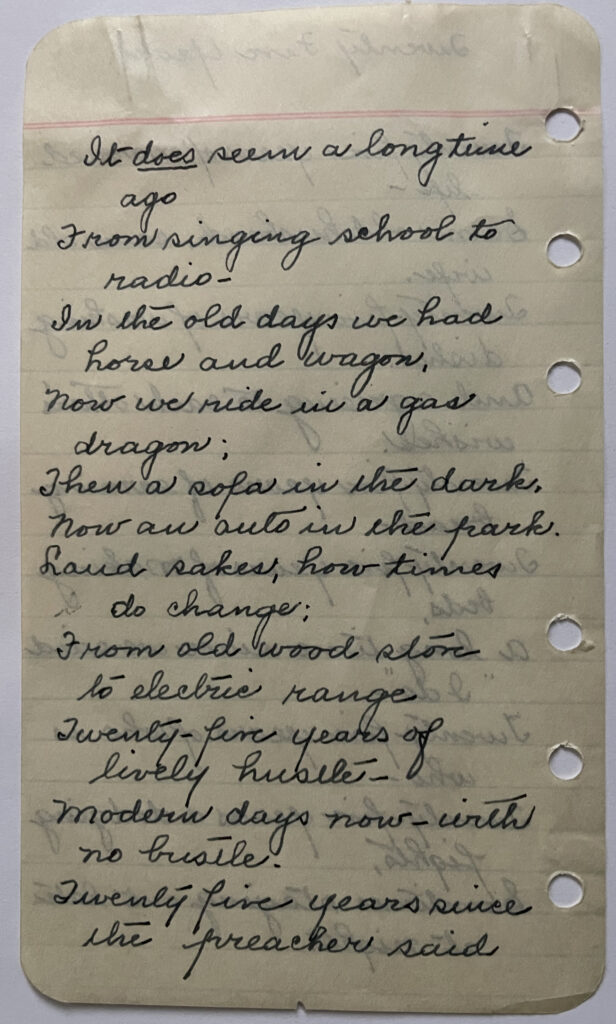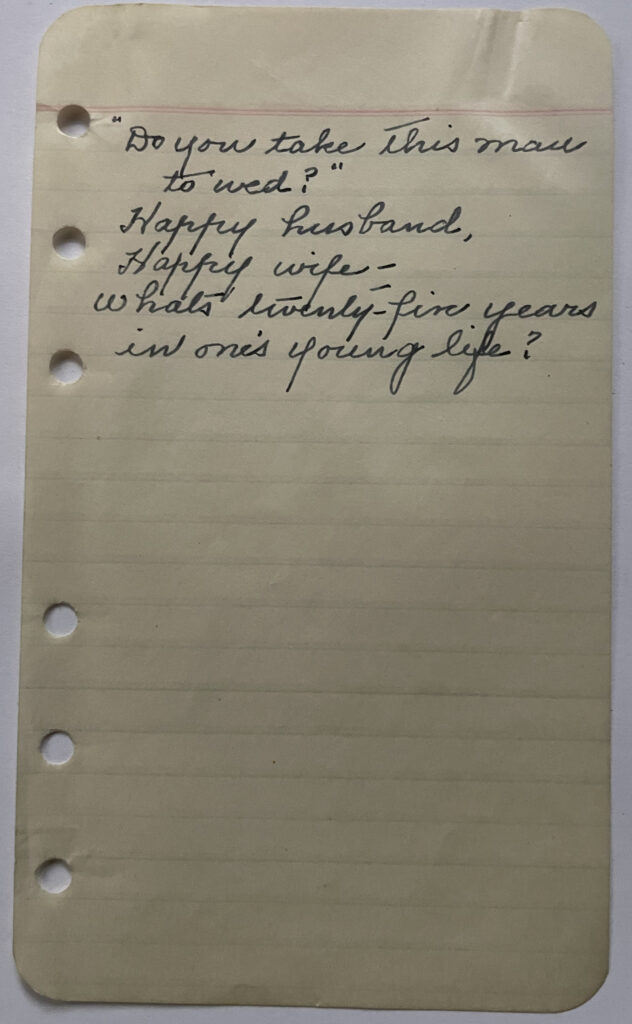 Sources
[1] New York State Census, 1925, Fulton County, Gloversville, Election District 1, Ward 3, Assembly District 1, Page 17, Lines 10-12