There is a saying that everybody is Irish on St. Patrick's Day!
Each year March 17th is celebrated not only in Ireland but throughout the world by Irish and non-Irish alike. St. Paddy's Day is known for parades, ancestry, traditions, shamrocks, leprechauns and the "wearin' o' the green". Irish folks outside of Ireland wear something the color of the Emerald Isle on St Patrick's Day as a show of their commitment to their Irish heritage. This tradition has caught on to include non-Irish folk as well.
As Marla Lewis sings:
Celebrate Ireland
The marchin' band's a-comin'
Ireland
The pipes begin to play
Celebrate Ireland
You hear the drummers drummin'?
Everybody's Irish on Saint Patrick's Day!
Well the Griffis family in the Schenectady, New York also has a bit of the Irish in their lineage as well.
Joel Griffis (1807-1882), the great grandfather of Harold Griffis, married Margery Gillespie (1807-1850). This is the source of the Irish connection.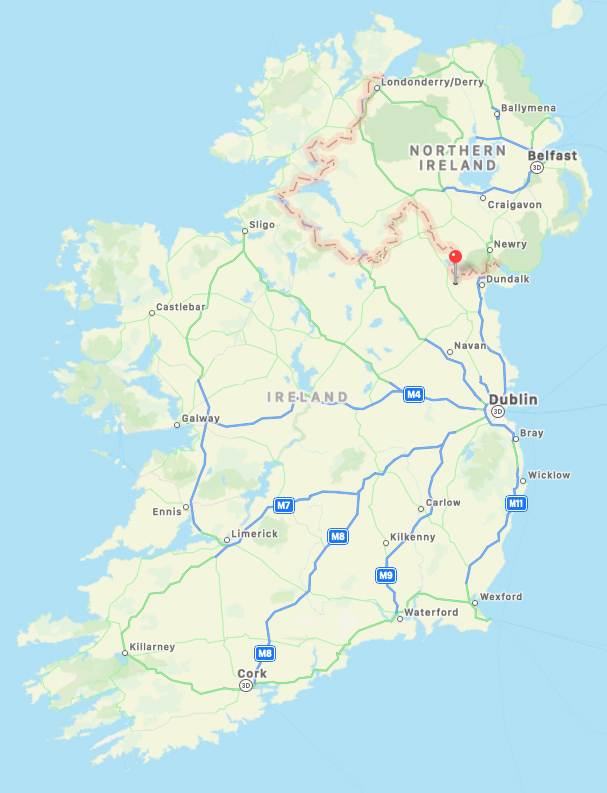 Going up Gillespie family tree, Margery Gillespie was the second oldest of eight children of Walter Gillespie and Christiana Truax. (See family list to the left). The list also shows Walter's parents: James Gillespie and Margery Braden.
Her father, Walter Gillespie, was born on January 24, 1772, probably in County Monaghan, Ireland as was his father, James Gillespie and his uncles John and George (not listed). A letter written in 1898 indicates that the the brothers immigrated to Ireland from Scotland. [1] However, their respective birth places have been listed as Monaghan County, Ireland. Their father Dean James Gillespie purportedly was born in Scotland and their mother, Agnes Phimister, was born in Ireland.
Hence, Harold Griffis' great great great grandfather was born in Ireland.
James Gillespie was born in Inniskeen, a small village and parish in County Monaghan, Ireland, January 14th, 1741 and died March 1st, 1829 in Glenville, Schenectady, New York.
Based on the birth of James Gillespie's children, and the above referenced letter, he and his family probably immigrated to America around 1793. All of the eight children of Walter and his wife, Christiana Truax, were born in the United States.
Sláinte!
Sources
[1] A letter dated February 22, 1898 discusses the family lineage of John and james Gillespie. "The John Gillespie first mentioned is reported to me by his descendants as having immigrated from Scotland to Ireland where he married Elizabeth Hunter. He with his brother James and their families came to America in 1793-94. Of their brother George I have not yet learned anything of this history… . "